As discussed in the previous blog regarding CityBlock 1, choosing your accommodation is the most exciting part of heading off into the big wide world of university. Whether going to DeMontfort University or the University of Leicester, CityBlock offers the best student flats in Leicester right in the heart of the lively city and is suitable for students of all years and studies.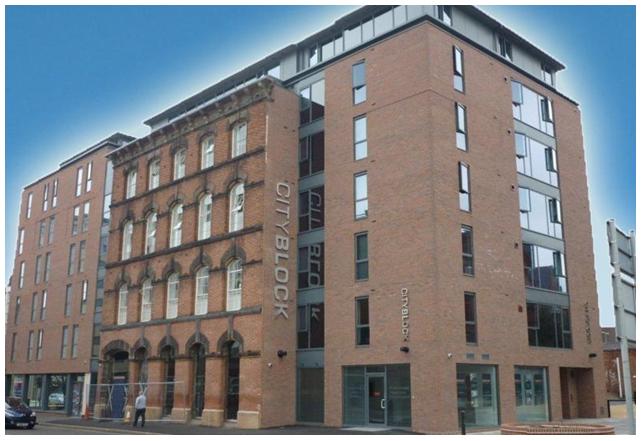 Leicester CityBlock 2
Leicester CityBlock 2 is situated just off the high street, on Careys Close, a 5 minute walk from DeMontfort University, a 20 minute walk or a speedy bus journey to the University of Leicester and within a short walk from the city's best nightlife entertainment and restaurants. CityBlock 2 comprises of 65 standard, Superior and Superior-plus single Ensuite bedrooms over 5 floors with an on-site lettings office.
Flats are in clusters of 9 or 14 tenants with use of spacious and fully furnished shared living and kitchen areas. Communal quarters are kitted out with TV's, large dining tables for group socialising and meal times and fully equipped kitchens, making moving in easy and care-free as everything you need is already there for you. All CityBlock rooms are Ensuite, which means no queuing for the toilet and gives each individual their own privacy. CityBlock aims to meet every individual's needs and offers mixed and single gender accommodation – just let us know and we will be sure to sort it for you. CityBlock 2 also offers an added luxury of 11 Superior and Superior-plus self-contained Ensuite studios, perfect for any post-graduate or higher year undergraduate student wanting to live alone or enjoy a larger living area.
There are 5 types of rooms available:
Standard single ensuite room - comfortable, high quality rooms with everything you need. At only £103.79 a week, including all bills and utilities, it is the perfect option for a first year student or returning larger groups of friends.
Superior single ensuite room - larger rooms with a 3/4 bed at £111.55 a week are popular with undergraduates wanting a little more living space.
Superior-plus single ensuite room - larger sized rooms with a 3/4 bed priced at only £114.46 a week. An ideal choice for post and undergraduates looking for a more spacious living area.
Superior self contained studios - large contained living and bedroom areas, with a fully equipped kitchen and double bed. Priced at £138.71 a week, this is a bargain for students of all years wanting a larger private living space.
Superior-plus self contained studios – self contained fully furnished and equipped living and bedroom areas with a double bed and spacious surrounding. Priced at £142.59 a week, this is a great choice for older or later year students wanting a private living area.

If you feel Leicester CityBlock 2 is perfect for you, or if you require any other information on our student accommodation in Leicester please get in touch with our friendly and helpful team on 01162 517270 or email us at info@cityblock.co.uk.