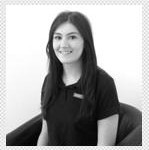 This week we turn the spotlight on one of CityBlock's newest recruits  Katie Hodgson as she answers our top questions!
Katie is the Brand & Marketing Manager at CityBlock, providing 12 month maternity cover for Suzanne Parker! She is responsible for the marketing of our high quality student accommodation blocks and company brand.  A key member of the team, Katie develops, implements, manages and evaluates marketing strategies and campaigns.
1. Describe yourself in 3 words/phrases
Fun, adventurous & sociable!
2. What's your favourite film?
I love anything directed by Wes Anderson! …Or anything Marvel!
3. If you could invite 3 people to a dinner party, who would they be (past or present)?
This is a tough one…. it would have to be James Cordon, Alex Turner and Sir David Attenborough.
4. What's your favourite thing about working at CityBlock?
The people I work with, the residents… and my job!
5. If you could be invisible for the day, what would you do?
Swim with whales and pet a Lion.
6. What's been your greatest achievement?
Being accepted to Copenhagen Business School for my degree and moving to Denmark!
7. Who's your secret celebrity crush?
Chris Hemsworth.
8. What's your favourite meal?
PIZZA.
9. What did you want to be when you were little?
A Mermaid
10. If you were on mastermind, what would be your chosen subject?
Food…