So, you're going to De Montfort Uni? Good choice. Now here's the exciting part. When choosing your accommodation there are plenty of things you need to take into account to make sure you will be happy in your new uni home. For DeMontfort University accommodation, CityBlock offer the choice of two high quality student living places in the heart of Leicester's lively and vibrant city centre. Whether you're a first or later year student, CityBlock offers the living facilities for all. Here's some information why Leicester CityBlock 1 might just be the perfect accommodation for you…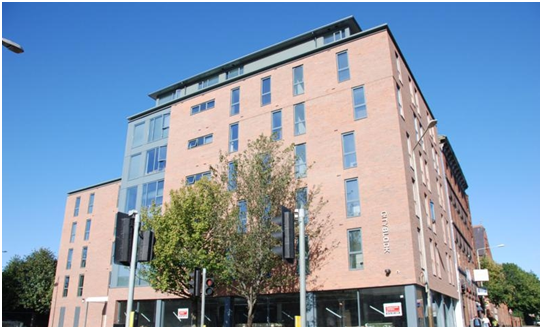 CityBlock 1 is situated in the middle of the goings on of Leicester, just off the high street on Careys Close, amidst the hustle and bustle of bars, restaurants, clubs and shops. Leicester is well connected to the rest of the UK by both rail and road – which means it is easy enough to get home during holidays and weekends!
CityBlock 1 consists of 92 cost-effective standard and superior single ensuite rooms spread out over 5 floors. The flats are in clusters of 10 or 11, a larger grouping means there is a wide range of personalities, and so making fantastic friends fast is always easy. CityBlock's aim is to provide a home for students where they will be happy and content, meeting each individual's demands and needs. There is an option for mixed and single gender flats, so if this is a requirement you wish for let us know and we will be sure to sort it for you.
All rooms are ensuite, which means no queuing for the toilet in a morning and gives each individual their own privacy. The weekly cleaning service to all rooms encourages students to focus on their studies (…and social life!) and all kitchens come equipped with everything, so moving in is easy and stress-free.
There are 4 types of rooms available:
Budget single ensuite room – all bills included at £96.03 a week means this is the perfect option for any student on a tighter budget.
Standard single ensuite rooms – comfortable, high quality rooms with everything you need. At only £103.79 a week, including all bills and utilities, it is the perfect option for a first year student or returning larger groups of friends.
Superior single ensuite rooms – larger rooms with a 3/4 bed at £111.55 a week are popular with undergraduates wanting a little more living space.
Superior self contained studios – large contained living and bedroom areas, with a fully equipped kitchen and double bed. Priced at £138.71 a week, this is a bargain for students of all years wanting a larger private living space.

If you feel Leicester CityBlock 1 is for you, or you would like to enquire about any of our other options for DeMontfort University accommodation please feel free to get in touch with our friendly team at CityBlock on 01162 517270 or email at info@cityblock.co.uk.