As part of our new 'day in the life' series, we'll be giving you an insight into how our student accommodation properties are run on a day to day basis by asking members of our team what they get up to on a typical day, plus what their favourite aspects of the job are. First up is our lettings manager, Rachel, who has been with CityBlock for almost four years and is based on site in Lancaster.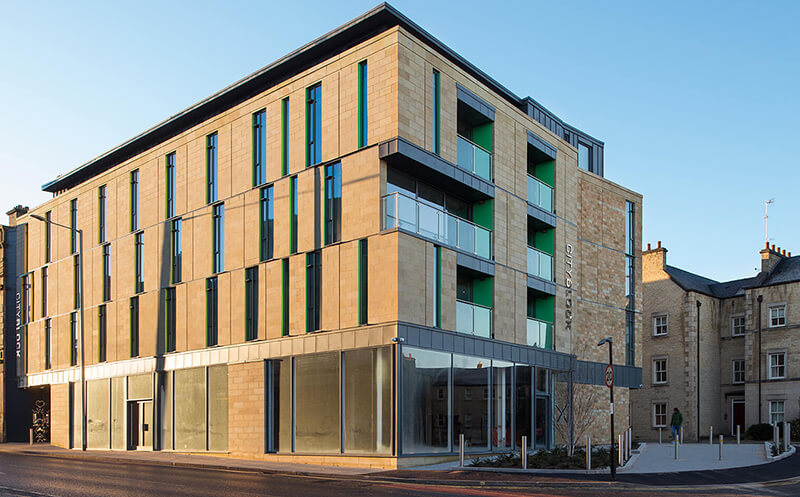 Hi Rachel! Tell us what a typical day might look like for you?
There is no such thing as a typical day, every day is different which is what I love so much about working at CityBlock. I'm based on site in CityBlock's latest Lancaster student accommodation on Penny Street and each day I could be doing anything from showing prospective new residents around the accommodation block, to walking around the block to ensure everything is running smoothly and there are no maintenance issues. We're full for next academic year starting September 2018 and receiving a lot of interest for 2019/20 already!
We also accept parcels for the students, if they're out at University when they arrive, which students love as they don't have to nip out to the post office to collect them! We'll also take them into the students' rooms if they want us to so they're there waiting for them when they return from lectures.
In a typical day we have a lot of interaction with the students as our reception is at the front of the building, meaning a lot of the students pop their heads in to say hi and have a general chit chat when they are leaving the block and when they return. Having this every day engagement with our tenants is hugely important to us here at CityBlock, with student welfare being our number one priority. We take this really seriously and know all of our residents on a first name basis.
What do you like most about working at CityBlock?
Probably the fact that every day is so different. I also love getting to know the students better, as do all the team – from the big things like helping them move into their flats, make friends on the first day of term and asking how their studies are going, to the small things like saying hello, asking how their weekend was, and sending each and every student an email on the morning of their birthday to wish them a happy birthday.
In addition, we have quite a lot of international students living with us here at CityBlock, so have the opportunity to learn lots about different cultures too, which is great. For me it's about being more than just an accommodation provider, it's about being an open door should they need support. We know that the residents' families appreciate this sentiment too as we have got to know quite a number of them – one of their mums even used to bring the team here on-site lunch every Friday!
How do you create such a community feel in the accommodation?
Aside from all of the above, our communal spaces encourage interaction on an ongoing basis and we work hard to create a sense of community. Students often have birthday celebrations in the common areas – last week it was filled with balloons, for example, for one of the residents' birthdays. We also encourage students to take part in community initiatives together – we have big tubs in the common areas, where students can put clothes and accessories that they don't want anymore, which we then send to local charity shops, as well as tubs where they can put food that they don't want, which we then send to local food banks.
We are also planning a staff and residents event in our internal courtyard at the block, to mark the end of their exams.
What has been your biggest challenge this week?
It's been a busy two weeks preparing for changeover, ensuring that we have all the processes in place to ensure we are ready for this year's students moving out and next year's moving in, although quite a few are staying over with us again for another year. We tend to have a very hectic few weeks at changeover, but always get through it. I'm also looking forward to meeting our new residents and settling them in!