Situated just off Cable Street in Lancaster, The Gillows is one of our most beautiful student accommodation buildings here at CityBlock. With its central location, modern and spacious rooms, and fascinating history, it is one of our most popular sites, and it's not hard to understand why.
So, today we're providing an exclusive insight into The Gillows and everything it has to offer to our residents. Read on to discover more about the building's history and importance in Lancaster, how we've put our mark on the establishment and why it's one of our most sought-after student accommodation buildings.
A Student Accommodation Building with Fascinating History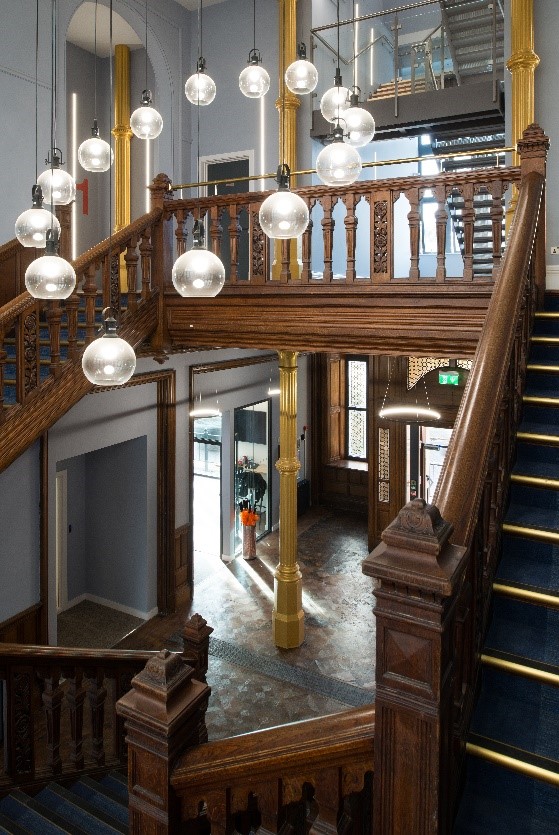 The Gillows has a rich history dating back to 1882, when it was built as a furniture showroom and workshop for the renowned cabinet-making firm of Gillows of Lancaster. The Gillows family had been involved in the furniture-making business since the early 1700s, and by the time they constructed this building, they had established themselves as one of the leading furniture makers in England. The building was designed by the architect Thomas Harrison as one of the first purpose-built furniture showrooms in the world. It was constructed with a classical façade and a grand central hall, as seen in the image to the left.
The Gillows' classical façade and historical significance make it a landmark in the city, and it continues to be a source of pride for the people of Lancaster and the wider furniture-making industry. Today, we're incredibly proud to have put CityBlock's mark on this piece of history while remaining sensitive to the period details.
Which Room Types Are Included in The Gillows?
We offer an excellent range of student accommodation in Lancaster, and our rooms in The Gillows are no different. Here are the Room Types you will find in this building:
Standard Single Ensuite – LIMITED AVAILABILITY
Superior Single Ensuite – SOLD OUT
Superior-Plus Single Ensuite – SOLD OUT
Deluxe Single Ensuite – LIMITED AVAILABILITY
Deluxe-Plus Single Ensuite – ONLY 1 LEFT
Deluxe Single Ensuite (3 Bedroom Flat) – SOLD OUT
Deluxe Self-Contained Studio – ONLY 2 LEFT
Deluxe-Plus Self-Contained Studio – SOLD OUT
Studio Apartment Plus – SOLD OUT
2 Bed Loft Apartment – SOLD OUT
Please note that currently, only the Standard Single Ensuite and Superior Single Ensuite are bookable for 2023-2024 with very limited availability, and many room types have already sold out for 2024-2025 (as displayed above), so if you're interested in a room in The Gillows, you need to book now.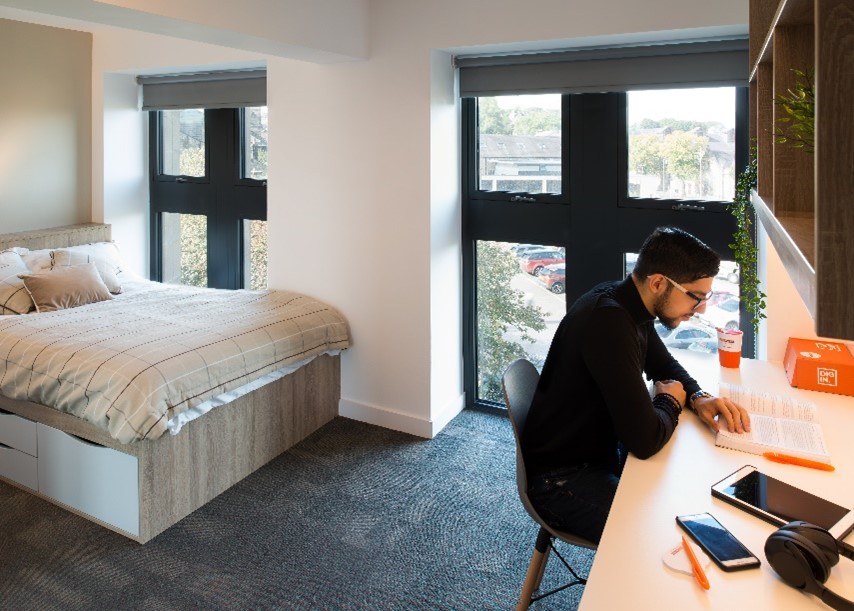 These rooms each come with their own extensive list of selling points that will be desirable to many people. However, like our other Lancaster student accommodation, all rooms have great features as part of the CityBlock experience, including ensuites and weekly cleaning, as well as:
– All bills included
– 200mb WiFi with six mobile devices supported
– 24-hour security
– On-site maintenance
– Free cycle storage
– On-site team available Monday-Friday
– Fully-equipped kitchens (even down to your cutlery)
– On-site laundry
– Parcel collection service
– Free CityBlock Card
– And so much more
Although incredibly impressive, Gillows isn't all about bedrooms and private living spaces; its social spaces and communal areas are also to be shouted about. All our fantastic cluster flats share large contemporary communal living spaces with excellent facilities, so you can cook up a storm in the kitchen or host a pool tournament with your flatmates.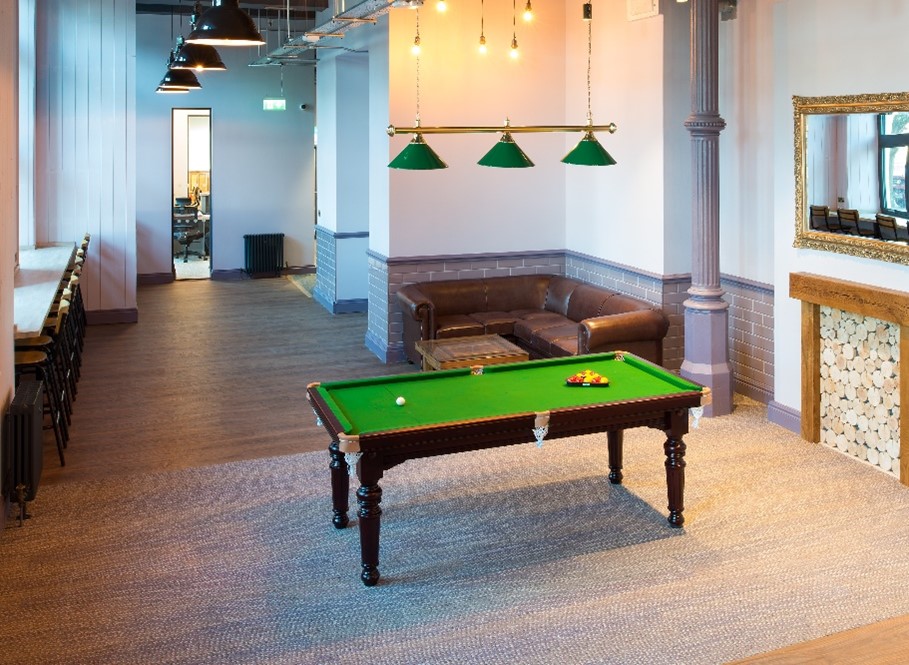 In addition, Gillows also includes a private dining room that students can book for functions. The space comes with a fully equipped kitchen, including utentils, making it perfect for hosting birthdays, society meetings, dinner parties, and study groups.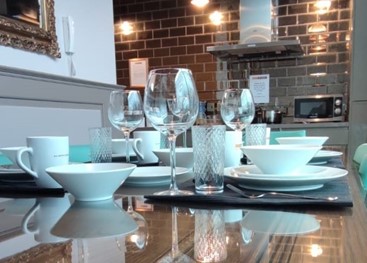 This isn't your average student flat block; we are highly accredited with the following certifications:
ANUK Accredited
NSHS Quality Mark
Member of LU Homes
Member of Deposit Protection Scheme
And, of course, over 20 years of experience. This makes us the number one choice for student accommodation in Lancaster, which is why our flats are so sought-after.
What Is There to Do Nearby?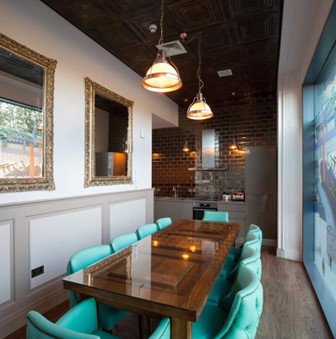 The Gillows is conveniently located in the heart of Lancaster with excellent transport links; in fact, Lancaster Bus Station is less than 5 minutes away, so you can hop on a bus and get to university or across town in no time.
If you're looking for something to do after a long day of studying, you won't be short of choices. With a 5-minute walk to the Vue cinema, you can watch the latest movies and then head into town for a bite to eat from some of Lancaster's most famous eateries. For example, The Quarterhouse is just 3 minutes away on foot and offers some incredible dishes, perfect for small groups or date nights. Alternatively, The Herbarium is the ideal spot for veggies and vegans, just a 4-minute walk away. With a wide scope of light bites and larger dishes, you could make a day of it and grab an extra coffee or two to keep yourself energised while you study.
Finally, if you want a new cycle route, The Gillows is close to the river Lune, which has excellent cycle trails past Halton to Caton or Morecambe Promenade.
So, if you're looking for ensuite student accommodation in Lancaster, look no further because The Gillows is filling up quickly. Take a look at our Gillows Virtual Tour to explore the building and get a feel for what your room could look like. Alternatively, book your room or get in touch to speak to a member of our friendly team for more information.