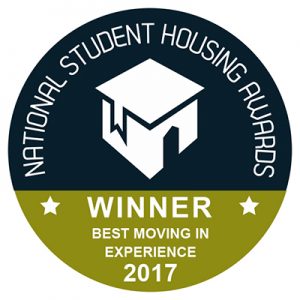 So, the big day is finally here: you're packing up and shipping out to University. It might be your first year (if so, congratulations on securing your place!) or you might be heading back to start your next year of fun, adventure, hard work and study – you're probably a master at balancing all those in moderation by now.
Whatever the case, if you've got a room booked and waiting for you in a CityBlock location, here are some top tips for moving in with us:
Prepare!
Prior to moving in, register for Wi-Fi so you can be connected as soon as you walk into your new home. Pack your belongings in storage boxes and strong bags – carrier bags have a tendency to fall apart! Put your duvet cover and pillowcases on your duvet and pillows before you arrive – your bed will be made in a flash leaving more time for meeting your new flatmates. Join CityBlock's Facebook page, and follow our Twitter and Instagram feeds so that you can be in the know. Finally, don't forget your charger for your mobile and laptop! Or all of your important documents: your passport and University information will be needed in the first couple of weeks.
Unpack (Listen Out for Newbies!)
The next step to getting settled in your CityBlock accommodation is to unpack all of your belongings and really make it feel like home. Unpacking is an exciting time for any first-time student (finally, you can put those socks in the top drawer like you always wanted to!), but it also gives you the chance to make that all-important first impression on your new housemates.
If you don't already know your flatmates, you'll want to make sure you present a welcoming, friendly environment from the get-go. Although you shouldn't prop your door open due to fire regulations, why not pop a note on the door inviting any newcomers to knock? Your new roomies will feel more comfortable stopping by to introduce themselves if they can see that you are incredibly welcoming.
Decorate Your Room
Your new bedroom is your main hub and your home away from home where you can go to relax and wind down. Make the room your own! Pictures of your friends, family and pets dotted around the space can provide a slither of home comfort whilst you're away. That being said, make sure to leave some space for photos of all the exciting times that you will be having with your new university friends!
Another fantastic way to decorate comes in the form of fabric; decorative pillows, bedding, rugs are all brilliant ways to inject some colour into your new home. CityBlock rooms also include a notice board, perfect for any revision notes or reminders throughout the year.
Get to Know Your Housemates
Moving in with complete strangers can be a daunting experience, but don't worry! Try to remember that everyone is in the same boat as you, and at the end of the day everyone will be wanting to make a fantastic first impression. The people that you live with tend to become your closest friends from your time at university, so take advantage of the situation that you are in. After you've unpacked, go and hang out in the communal areas and try to strike up a conversation with people as they start to arrive.
Pro tip: if you bring a box of chocolates or biscuits with you when you move in, you can leave them on the kitchen table and it gives everyone a reason to sit down together and break the ice!
Register with a Local GP
Thinking about the next time you're unwell is probably going to be the last thing on your mind on moving-in day. But if this is your first time moving to your new University city, you'll want to make sure you're registered with a local GPs surgery.
It will mean you'll be able to get an appointment much sooner when you're sick. Your University might have an onsite health centre for you to register at, so make sure you do your research before you arrive. It takes no time at all to sign up, and if you get ill whilst at University, you'll be very glad you have GP you can visit.
Keep Useful Numbers to Hand
Once you've unpacked, become acquainted with your housemates and settled in, you should probably think about gathering phone numbers. Important people at your University, your newly-registered doctor's surgery, and your CityBlock out of hours contact are just some of the numbers you might want to have to hand. This way, there is no time wasted trying to remember where on earth you have left that scrap of paper back when you first moved in, several months from now.
Gather all those numbers on the first day, save them in your phone or write them down and pin them to your notice board. Although this seems slightly trivial to some ("hello, it's called Google"), it will actually save you time and stress later down the line. CityBlock provide a quick guide with some useful information which you will find on your noticeboard.
Meet the Neighbours
In CityBlock accommodation, you'll have a lot of neighbours in the other flats. It's worth getting familiar with the people who live around you – if for no other reason than to expand your circle of friends (and maybe to borrow a splash of milk for your coffee when you've run out…)! Ultimately, you'll be living alongside people from many walks of life, so keep an open mind and make the most of the experience. CityBlock hold a welcome meeting and other events to help you get to know other students living in the block.
Don't Forget!
We asked recent graduates what they wished they had remembered when packing for their new student accommodation:
Dressing Gown – Let's face it, you will be spending a lot of downtime snuggled up in this.
Hangers – Unless you're more than happy to have 'the chair', bring some clothes hangers.
Playing Cards – Very important when socialising in the communal areas. Excellent for a particular 'ring'-themed challenge game. Or board games.
Your favourite mug – You know you like your morning brew in your cat cup? Bring it with you! CityBlock will also provide you with your very own mug too!
Fancy Dress – You are a student at the end of the day; having at least one set of cat ears might save your only bedsheet from becoming a ghost during Freshers' Week.
Speakers – Again, brilliant when you're in the communal areas…pass me the aux lead!
Laundry bag – to assist transporting your washing to the laundry room.
CityBlock Student Accommodation
Here at CityBlock, we are incredibly excited to welcome students for another year at university. Whether you're a returning student or it's your first time, we are here to help you at each step, making sure that the entire experience of moving away from home is an exciting one.
If you are joining us in our student accommodation in Reading on the 8th September, don't be a stranger! Ask a member of the team for directions to the university campuses; London campus is a 5-minute walk, whereas Reading University's main campus is between 10/15 minutes away on foot. The Hope and Bear pub is en route too – make sure you try out the excellent menu!
For those at our student accommodation in Lancaster, moving-in day is on the 9th September. Top tip: if you do forget something, be it bedding, toiletries or even your slippers, shops are a mere 5 minutes' walk from CityBlock.
Should you find that you have any queries, feel free to see a member of staff. We'll see you then!